It was 20 years ago – 15 May 1992 – that I opened the doors at Ireland On-Line. Operating out of my house in Galway, and with only a credit card as working capital, it was the culmination of 9 months of dreaming, planning and learning, and the start of a fantastic adventure.
The aim was as simple as the name suggests – I wanted to put Ireland online. To bring the World to Ireland, and Ireland to the World.
The Internet was as yet unheard of except within the hallowed halls of academia, but I was convinced that this global network had the potential to transform this country, and would ultimately affect every aspect of our lives and businesses, and allow a new generation of Irish to remain in Ireland yet enjoy the benefits of a global economy and opportunity.
Now, looking back 20 years later, I am amazed at how much of what I predicted and imagined has come to pass. We live in an Ireland today which, although beset by some short-term setbacks, has been transformed in terms of our ability to transcend our borders and small population. Our opportunities are global, and our reach infinite.
With Ireland On-Line, I – at first alone and later with others – had the honour of leading and shaping an entirely new industry. It was all uncharted territory. A blank slate. The only rule: there were no rules. The only certainty was continuous change. We made it up as we went along, but we did so with a conviction that this was important and long lasting and so wanted to do it right. Our belief in what we were doing, and that it was bigger than any of us, kept us going and pushing forward when few others shared our vision.
Over the next seven years, IOL grew from a single employee to over 120, and remained the largest ISP in the country, maintaining over 60% market share despite ferocious competition from larger, better funded rivals. We achieved this through the strength of our team, and a shared determination to succeed.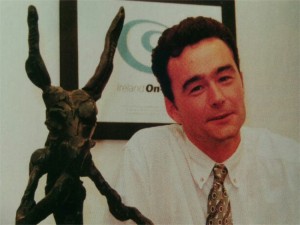 It was an amazing, magical and exhilarating time and I am immensely grateful to have been a part of it, and to have shared it with the incredible people who made IOL what it was.
While the brand Ireland On-Line as been neglected and allowed to wither by the to-and-fro of the corporate world, it leaves a legacy of which I am immensely proud.